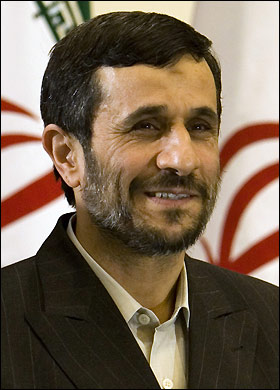 In all the many headlines and analyses that I've recently read concerning the Iran nuclear problem, all opinions seem to tend towards stopping Iran's nuclear capability dead in its tracks and by the shortest possible route - by a pre-emptive attack or war with Iran in other words. We also hear that Iran's religious politicals are not interested in either the Israeli demands or Western demands for halting their nuclear program. We also all realize that if Iran unleashed a nuclear bomb on Israel, then, without question, Iran would probably be blasted off the face of the Earth in reciprocation by the western powers.

But the strange thing about the western viewpoint is that - oddly - nothing has happened yet - noone has attacked or declared war on Iran and it 's been over a year since these extreme Israeli and Western solutions were first voiced so angrily within the western media as inevitable and happening "very soon".

So perhaps a quick appraisal and appreciation of the consequences of a war or an out-and-out pre-emptive attack on Iran would go far in explaining this current and puzzling do-nothing attitude from both Israel and the US. Whether there is an Iranian or Israeli/Western first attack will be irrelevant, but here are the consequences as I see them.




When you go to war or attempt a pre-emptive attack on an enemy, it is useful to do so with correct timing, opportunity and advantage. Currently, America and Europe are in the depths of an awful economic depression - the further strains on their economies would be immense and socially demoralizing if they went to war against Iran. And for reasons that will soon become apparent, Israel will simply not be able to go to war with Iran on her own.






The Middle East states that border Israel to the north, east and south - Lebannon, Syria, Saudi Arabia and Iraq - have all made it plain that any violation of their airspace by Israel will be interpreted as an act of war.






If a pre-emptive strike on Iran were attempted, the Shi'ite millions in Iraq would rise up for their brother Shi'ites in Iran and very probably depose the democratic govt. of Iraq in a very bloody coup. The Shi'ites in Lebannon(Hezbollah) would also rise up against Israel with a good likelihood of Hamas joining the uprising in Gaza. This uprising war would most likely extend the whole length and breadth of the Middle East and would hugely de-stabilize the region - and virtually shut down all oil production.






If America or Israel were to use nuclear weapons against Iran, then that would shut down Iranian oil production completely - probably for hundreds of years because of the residual radioactivity. Currently Iran is the no. 2 oil producer in the world today. Therefore, the effect on the oil markets and industry would be financially and economically catastrophic.






Meanwhile Iran has been making friends with China and Russia who have both been supplying Iran with significant amounts of conventional missiles, aircraft and munitions. Iran herself has also developed her own air to ship missile capability recently - which is not unlike the old Exocet or cruise missile capabilities of the western longer range missiles. A fight with Iran would be a whole different kettle of fish than fighting the Iraq War. Much more difficult mountainous terrain(not unlike Afghanistan) and a well prepared Iranian army that may well have nuclear capability. The loss of human life would be much higher on all sides.






If there was conflict, the Iranians would probably ensure command of the Straits of Hormuz as a priority with their navy and airforce using missiles and sea mines. No oil would get out from Saudi Arabia or any of the southern Gulf States. Oil transportation from these regions by sea would be deliberately shut down by Iran.






As already stated, a war with Iran would provoke a huge shortage of oil. This would further depress western manufacturing industry, adding greatly to the problems of the current global depression, and would likely lead to an even higher rate of unemployment in the US and Europe. This would naturally lead to massive social unrest and political instability.



And Who would gain if there was a war in the Middle East?

This is the next logical question. It certainly wouldn't be Iran and, as I have argued, it most certainly would not be the US or Europe who would have any gain would it? I've said several times that Russia and China are coming closer both politically and economically. In fact, Russia and China are the perfect economic fit. Russia has all the resources - gas, oil, steel etc - and China has the cheap and vast manufacturing base. If Iran is decimated and the middle east is embroiled in an extended conflict with the US and Europe, then oil from the middle east will all but cease.

But what other powerful country in the world has oil and gas? That's right - Russia. She is, currently, the largest supplier of gas in the world, and also has major oil deposits throughout Russia. So what do we have if the middle east oil is cut off? We have one major energy supplier left - Russia - who can name his price. After all, oil is power isn't it? Clear to me that Russia has been using and stimulating the conflicts in the Middle-East to drain and weaken the resources of America, and it seems that America has fallen head-first into this trap. Therefore, the one to fear is not Iran but Russia.

There is, undoubtedly, a clear and present danger from Iran's nuclear threat capability which must, somehow, be stopped but when all the facts are revised and logically studied, it is very easy for me to see which side really has the timing, opportunity and the clearest advantages here. As well, I am also sure that President Mahmoud Ahmadinejad is fully aware of Iran's fairly comfortable position in all this conflict.

These are all the real reasons why I am not at all surprised why neither the US nor Israel has attacked Iran yet.