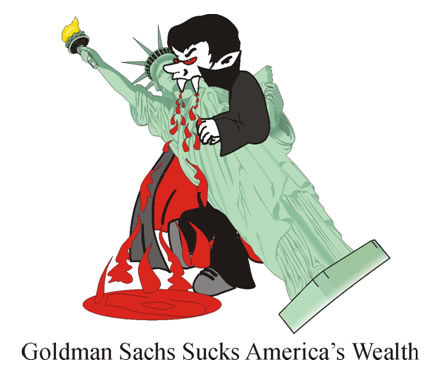 How is it possible that such an institution as Goldman Sachs is able to make a quarterly profit of $2.7 billion in a recession ? Why is it that we have had such a blinding plethora of takeovers -- Countrywide, Bear Sterns, Lehman, Wachovia, on and on -- by banking monoliths such as JP Morgan Chase, Citigroup, Bank of America, Goldman Sachs, Wells Fargo etc., while all true and honest free-market economists are sensibly screaming at the top of their lungs that America must avoid creating even bigger too-big-to-fall institutions, then what exactly has the US government been promoting here ? On the one hand, Obama hotly blows fervently that he will regulate the financial markets and institutions properly (which is what everyone wants to hear), but on the other, his very actions betray grand, contradictory and anomalous lies. And with those free-market Debt Stooge Infixers -- Summers, Geithner and Bernanke -- those very people so insidiously involved in past de-regulation policies that have helped to cause this crisis -- what do you think ?

In a recent televised defense of his new Health Care Bill, a package that will probably cost trillions, year in year out when implemented, President Obama astonishingly stated that the creation of a new health care system would radically help to reduce the current horrific US debt deficit !! And people actually believe this classic drivel ?!! What new-born Keynesian tripe is this? Plainly, spending trillions and trillions to implement a new system of health care right now, within a dangerous US economic period and with a squeaky weak dollar is completely insane. Why aren't the US government completely focused on just the economic problems now -- by far the biggest problem, instead kicking the can even further down the road with expensive distractions? I'm not against a new health care bill, but now is surely the wrong time to implement such a costly plan.



In my search to find exacting answers as to why, according to history, democracies always, always, eventually seem to fail their people, I've stumbled across an article that seems to cover much rocky ground regarding democracy's persistent and dirty inadequacies. It certainly hits the button and explains many of these self-destructive democratic aspects fairly candidly. This article, like it or not, is also completely apolitical, not favouring the Democrats or Republicans, neither favouring the Liberals, Socialists, Progressives, Libertarians, Independents, Communists or Nazis. So let's be very clear here, the article below is simply about the US democratic process within government and nothing else. For a more extensive article and more proof, try reading the original background article -- "The Great American Bubble Machine" -- by Matt Taibbi.
From The Market Oracle Author: Darryl R. Schoon

"…organized greed always defeats disorganized democracy" - Matt Taibbi
In Rolling Stone Magazine, Matt Taibbi wrote what would never be read in The New York Times, The Financial Times, Fortune, Barrons and certainly not in the Washington Post.


"…If America is circling the drain, Goldman Sachs has found a way to be that drain -- an extremely unfortunate loophole in the system of Western democratic capitalism, which never foresaw that in a society governed passively by free markets and free elections, organized greed always defeats disorganized democracy. "- Matt Taibbi,

Goldman Sachs: The Great American Bubble Machine

, Rolling Stone Magazine, July 2, 2009, issue 1082-83
Those
at the center of power are often reticent to criticize others feeding at the same trough. It is left to those on the fringe, in this instance Rolling Stone Magazine, a reviewer of popular music, to state the ugly truth about what is happening at the center—that bank-holding company, née investment bank Goldman Sachs, engineered America's serial bubbles in stocks, housing and commodities; and, has now profited immensely from both the bubbles and America's subsequent collapse.

That bankers at Goldman Sachs will receive record bonuses the same year millions of Americans will lose their homes and their jobs is not by coincidence. Matt Taibbi's article explains why and how this is so. In the game of last man standing called Western democratic capitalism the winner is clearly Goldman Sachs.

DEMOCRACY'S BIRTH WAS AN IMPROBABLE EVENT IT'S DEATH LESS SO

Taibbi's statement, "organized greed always defeats disorganized democracy", gives the understanding how America, once the greatest economic power in the world, lost its extraordinary productivity, wealth, and power in only a few decades.

The lofty intent of those who founded the US has today been effectively subverted. Democracy no longer serves the role intended by America's founding fathers. Today, democracy serves instead the special interests that control America through a highly compromised, manipulated and mis-named "democratic process".

Control of the democratic process is not difficult. It is done with money, money given to politicians who raise campaign funds by selling out those they are elected to serve. This is not only true for most Republicans and Democrats. It is true for most nations.

In this process, voters are temporarily satisfied when "their" candidate wins. In truth, "their" candidate was never theirs in the first place, already having been brokered and bought by powerful interest groups who have much to gain by their candidate's ability to get elected.

DIVIDE AND CONQUER THE TWO-PARTY DANCE OF DISASTER

Instead of helping to solve society's problems, the democratic process has been diverted by powerful and well-organized special interest groups. This diversion is accomplished by exploiting the conservative and liberal tendencies of the electorate, a diversion that enables special interests to maintain control no matter what party wins.

By exacerbating the natural tensions existing within society, special interests use politicians and the media to control the political dialogue, emphasizing issues that divide and inflame the electorate thereby diverting attention away from the destabilizing, dangerous and self-serving aims of special interests.

After every election, either conservatives or liberals will feel that victory has been achieved, their ideological opponents temporarily vanquished, their political ends accomplished; but nothing could be further from the truth as both conservatives and liberals have been duped in the process, a process best described as political pornography—as the aftermath is always somehow unfulfilling, no matter how exciting the initial attraction and foreplay.

In the end, very little gets solved, problems persist and proliferate, and the electorate becomes increasingly disillusioned—that is, until a new candidate is found by the special interests to again raise the hopes of both conservatives and liberals that this time it will be different.

SPECIAL INTEREST GROUPS AND THE RISE AND FALL OF NATIONS

The ability of special interest groups to dominate democracies is surprising only because democracies are relatively new; notwithstanding the Greek city-states and the earliest reports of democracy in ancient India—and my parody of an earlier imagined attempt, http://www.drschoon.com/articles/DemocracyInTheMadhouse.pdf .

Special interest groups far predate the modern democratic state. According to American economist, Mancur Olsen (1932-1988), author of The Rise And Decline Of Nations: Economic Growth, Stagflation, And Social Rigidities, 1982, Yale University Press, special interest groups arise in all nations and it is their presence and power that ultimately destroys the nations they dominate.

Mancur Olsen's theory, the Logic Of Collective Action, posits the longer a nation is stable, the more likely special interest groups will rise and dominate that nation's affairs and economy, making that nation less efficient and less productive and by so doing contribute to its ultimate downfall.

In a paper at Cornell University, Chia-chen Chou sheds light on Olsen's Logic of Collective Action as follows:


Special interest organizations and collisions (distributional coalitions) reduce efficiency and make political life more divisive. Distributional coalitions struggle to maximize their own self-interests, that is, share of the national income rather than finding ways of increasing this income.
Thus, special interest groups attempting to get a bigger slice of the pie will lead to decreased societal production…The underlying logic of collective action and its implications provide a general explanation for the economic growth and decline of states. The longer the period of stable government, the more special interest groups will form to rob the economy.
Olsen's Logic of Collective Action explains the increasing divisiveness of American politics, Wall Street's successful robbery of America's wealth, and the military-industrial complex's role in America's demise as a world power; and now that these issues have been resolved, the question remains, what's next?

GOLDMAN SACHS THE KING PIMP OF WALL STREET

Goldman Sachs is today the pre-eminent paper player in today's paper markets, the king pimp of capitalism, Wall Street's equivalent of Harlem's fabled players of the past who lived opulently off the considerable labors of female prostitutes.

But the pimps on Wall Street have done Harlem's pimps one better. Goldman Sachs and their fellow pimps benefit not just from the labor of women but from the labor of men as well.

When Wall Street pimps take their cut of America's money, they're not alone. Without the US government, the pimps of Wall Street couldn't do you like they do. There are two hands in your pockets—and they're not yours.